This is our very rustic, very plain pattern, called "Natural." It's even plainer than our "Memorial" pattern. It has been designed specifically for churches and dramatic arts groups to use in the portrayal of Jesus' last supper. Our objective was to come as close as possible to what we imagine was used during that event - simple, ordinary cups and plates, and perhaps a pitcher. This was not an elegant meal, but a common sharing of bread and wine among friends in a private home. For large orders, please allow six weeks lead time.

Some things to expect when ordering the "Natural" style of our pottery:
Glazed minimally (for safe use) in a slightly mottled dark brown on inside and rim of cup and flagon.

Unpredictable and irregular shades of brown in the blended stoneware clays which are used to produce the ware (notice the differences in picture above.)

Well-crafted, but with color variations from piece to piece, even within a group of pieces ordered together.

The Chalice will contain approximately 10 to 12 oz. and is about 7.5" high. Paten is approximately 9.5" in diameter. The Flagon holds approximately one quart liquid.

NO carved cross on the chalice available in this style.
---
"Natural" CHALICE, PATEN, FLAGON
Chalice Height: approx. 7.5"
Paten Width: approx. 9.5"
Disciple Cup Height: approx. 3.75"
For large orders, please allow six weeks lead time.

2pc Chalice and Paten Set Price : $100.00 / 2 pc.set Free shipping in USA


Chalice: $49.00 Free shipping in USA

Paten (Plate): $51.00 Free shipping in USA

Flagon (Pitcher) with stand: $67.00 Free shipping in USA

Congregational Set (Chalice, Paten, Flagon, Stand): $167.00 Free shipping in USA

Disciple Cup (3.75" high): $25.00 Free Shipping

Natural Lord's Table Set (Chalice, Paten, Flagon and Stand, 12 Disciple Cups): $439.00 Free Shipping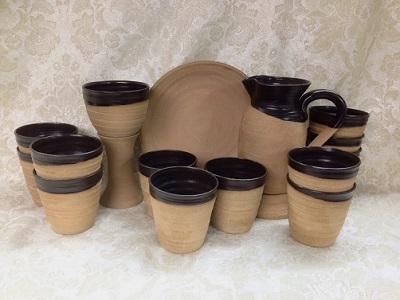 ---
©Ocepek Pottery 1981-2022
All designs copyrighted